Residential
»
Mirrors
Architects and interior designers have long discovered the beauty, elegance and practicality of mirrors in a room. Aside from their practical purpose, they can bring additional light in the room as well as give the illusion of more space. We have years of experience in cutting mirrors to fit even the most intricate of shapes and designs including cutouts for switches, outlets & lighting.
We can assist you with designing the bathroom vanity or wall mirror that best suits your needs, is esthetically pleasing, and adds value and uniqueness to your home.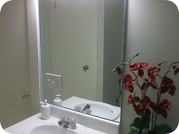 Northlite Glass & Mirror is well known in the industry for their custom mirror work. The effect of mirrors can be very dramatic; bringing additional light into a room and give the illusion of more space. We use the highest quality materials and have many years of experience in cutting ...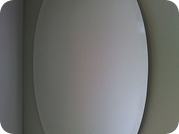 Our stock mirror supply changes frequently. If we don't have what your looking for in-stock, we are always ready to cut according to your needs. We offer 1/8", 1/4" thickness, seamed edge, polished edges, 1/2" bevel, 1" bevel and various shaped designs.