Residential
»
Shower & Tub Enclosures
Northlite Gass offers framed, semi-frameless and frameless glass enclosures to accommodate your over-all bathroom design. All of our shower and tub enclosures are manufactured from the finest quality tempered safety glass available in 1/4", 3/8" and 1/2". Whether you are building a new home or if you are remodeling a shower, we can help you decide on the best product for you.
Our professional trained staff will provide you exceptional service and would be glad to provide you with a free estimate.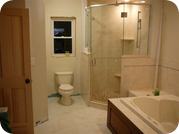 Designing a beautiful and functional shower enclosure begins with your imagination. We at Northlite Glass & Mirror can assist you with a design that will result in an aesthetically pleasing and practical unit. We offer several finishes to match many bathroom fixtures, so that our units blend into the design ...
Read more about the value and beauty of Custom Shower and Tub Enclosures »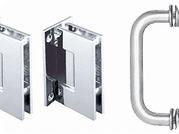 Shower doors get a lot of use over the years. We use only the best available hardware on our enclosures.