About Northlite Glass & Mirror of Derry, NH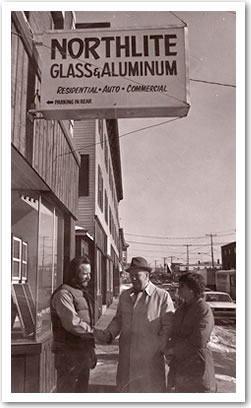 Fred Oven opening Northlite Glass
in Derry, NH (1978)
We provide you expertise and workmanship as it pertains to projects at your home or commercial location, as well as, auto glass replacement in our shop. Whether your job requires work to be done at our "house" or yours, we can service all of your glass needs.
We take great pride in our workmanship, and in the length of time we've been in business. Our word of mouth referral business is our best advertising.
Mission Statement
Our mission at Northlite Glass & Mirror is to be unrivaled in the glass industry when it comes to customer service, experience, knowledge, integrity and workmanship.
History
After having learned the custom glass trade in Massachusetts, Fred Oven founded Northlite Glass & Mirror in 1978. After serving the community for 28 years at its original downtown Derry NH location, we moved to a new, larger, state of the art facility, staying within the Derry community.
Community
Since 1978 we have been a part of the greater Derry, NH community. Over those years we've enjoyed being a part of the local Chamber of Commerce, regional building associations and national glass associations. We support some charities as well.
Memberships
Greater Manchester Home Builders Association
Home Builders & Remodelers Association of New Hampshire
National Glass Association
New Hampshire Association of Homebuilders
Southern New Hampshire Homebuilders & Remodelers Association
Awards Received
Best of the Best (voted best glass shop in the Derry, NH area 2003 - 2017)
America's Best Business Award (voted best glass shop in the Manchester, NH area 2003)
Sponsorships
Dana Ball Love Tennis Tournament
Derry Little League
Pan Mass Challenge
Some of the special projects Northlite Glass & Mirror has done are:
Polaroid Company
We designed and installed a display holding over 70 years of camera development history in the foyer of their boardroom.

Mitre Corporation
We provided bent glass for the kiosks in the main lobby.

Emerson College
We did the historic restoration of art glass in the windows and doors.

Canobie Lake Park
We fabricated and installed the ticket booth pass thru windows.

Fenway Park
We provided the glass enclosures for display cases of memorabilia at the Boston Red Sox museum.
"It was great to meet you recently and I wanted to prepare this letter for you. I've been using your facility for years for glass projects, some little, and some big projects and I have never been disappointed. In fact ..." Read more »
Dustin J. Cournoyer

Hours of Operation
Mon
Tue
Wed
Thu
Fri
Sat
8am - 5pm
8am - 5pm
8am - 5pm
8am - 5pm
8am - 5pm
8am - 12:59pm

Memberships